Not only can time cause memories to fade, but so too the photos meant to capture these special moments forever. Luckily, technological advances have presented a solution — photo scanning.
Sure, you can probably use your three-in-one printer, scanner and copier that you use at home, but it's time-consuming and, for the best results, some manual edits will be needed. The best option — using one of the following 10 leading photo scanning services instead.
1. ScanCafe
ScanCafe's photo scanning service has already saved millions of memories in only a few years. Like with most good brands, it all started from humble beginnings when one of the co-founders offered to scan in all his late grandfather's old photos.
Fast-forward a couple of years and all the processing has been moved to their sophisticated facility in Indianapolis where everything gets completed now. They chose this location so that they could easily serve customers from all over the United States.
In addition to offering a convenient, central location, they're on a mission to offer quality and trustworthiness. Human editors have the final say about key choices like color and they've put in place several security measures to ensure all your precious memories remain safe.
To date, they've received hundreds of online reviews. Many have highlighted their reasonably priced services as one of the main reasons for choosing them. Happy customers have also praised them for making the process easy and less daunting.
Other key services include:
Video scanning
Home movie transfers
Audio scanning
Photo restoration
2. ScanMyPhotos.com
The story of ScanMyPhotos dates back as far as 1990. They initially started out as a boutique retail photo center that offers cost-effective photo processing services to their local market.
Thanks to the advances in tech, they spotted a gap in the market and started to focus on scanning services. Not only that, but they also shifted their company online, helping them to serve an international audience too.
One of their key features is that they can handle bulk photo scanning for various formats including film negatives and 35mm slide scanning. That being said, their high-speed, same-day scanning is only available for scanning prints.
The process is very straightforward. You simply send your photos to them and their pros at their facility in California will scan it into a JPEG file and send you your digital download via email.
Other key services include:
Photo restoration
VHS and film transfer
3. Memories Renewed
Founded in 2005, Memories Renewed offers professional media digitization services to help preserve analog formats. They have a team of digital archivists that will scan photos in any size or condition.
While you don't have to organize your photos in a specific order, they suggest that you group them into a zippered plastic bag. However, if your photos are currently in a photo album, you can send it to them as is. They also accept physical photo albums and will remove the photos to be scanned carefully and replace all of the photos again. If it's a scrapbook with the photos glued to the page, no problem. They can scan the full pages individually to preserve the original page layout.
Then, to ensure high-quality results, photos get custom edited individually for key elements like color and contrast correction, cropping, and orientation. Plus, as part of a final measure, a senior editor reviews all the images for quality. That said, if you're equipped to take care of the editing yourself, they also offer a discounted scan-only option.
They've received dozens of five-star online reviews. Customers have praised them for their quick turnaround time, quality, and customer service.
Other key services include:
Memorabilia scanning
Slide scanning
Negative scanning
Film scanning
Videotape transfer
4. EverPresent
EverPresent might be a family-run business, but that didn't stop them from becoming one of the biggest photo scanning services. Their team of over 70 employees work from more than 40 locations all across the US. To date, they've served 50,000+ clients and on average they scan millions of photos each year. Not only have they've worked with thousands of clients, but their photo scanning services have also been featured by leading publications like The Boston Globe and The New York Times.
Their philosophy — photos should be enjoyed and shared daily.
Before undertaking any new scanning project, they'll first consult with you telephonically to understand your requirements. On top of scanning your photos, they can also create custom labels for better organization (and you don't have to organize any of your photos before sending them). You can either use mail order or drop off your photos at one of their dozens of satellite locations. If you're located in the Northeast, you also have the convenient option of taking advantage of a home pickup service.
They've received over 1,000 online reviews already. Their accuracy and on-time delivery are two features that stand out.
Other key services include:
Slide scanning
Video transfer
Audio transfer
5. ScanDigital
ScanDigital has scanned over 50 million images into a digital format that will last forever. Everything gets completed by hand — both the scanning as well as the editing.
One of the advantages of working with ScanDigital is that they'll take great care to respect the way you've organized your photos. After completing the scans, they'll return all your hard copies in the same way that they've received it. What's more, they'll categorize your new digital copies in the same manner. For example, if your photos came in labeled photo albums, they'll make sure to use the same labels when they create your digital folders. This makes them a great choice if you've spent hours organizing your physical photos already.
However, if the photos that you wish to be scanned are a disorganized mess, they can still help.
Another plus point of using ScanDigital is that you can select between premium and expert resolution. And, if you have a larger print that needs to be scanned, they can do that too at an extra cost.
Other key services include:
Negative scanning
Slides scanning
Special media digital transfers
6. iMemories
Named by Fast Company as one of the most innovative companies in the world, iMemories is one of the leading names if you have any old photos that you need to digitize. They're trusted by more than one million customers and have helped to digitize millions of assets.
They have a team of 200+ digital restoration specialists boasting nearly 20 years of experience. All photos get scanned at their new top-of-the-line facility in Arizona. The reason why they've picked this location is because it's not prone to natural disasters. That's how much they care about keeping your memories safe.
Then, to help keep your precious photos safe on its journey, it also includes a safe shipping kit. Using this kit, you can send your photos by yourself knowing that they have been packed correctly.
Other formats that they can digitize include:
Video tapes
Movie films
Photo slides
Photo negatives
7. Memory Fortress
Similarly to some of the other service providers in this niche, Memory Fortress originated from humble beginnings. With simply an old box of photos and an entry-level flatbed scanner, they got to work. Fast-forward more than a decade and they've upgraded to a facility in Georgia from where they serve all the US states.
Whether you want regular resolution or need a higher resolution, they can offer both for loose, individual photos as well as photo albums and return them in the same way that they have received them. As for delivery format, they offer several options including USB flash drives, external hard drives, DVDs, or cloud storage.
What's more, included in their very low photo scanning pricing are services like color correction, cropping, image rotation, and sharpening. As for organizing your files, they'll also create a folder system and customize the file names.
Other key services include:
Video and movie film transfer
Scrapbook scanning
8. Digital Memories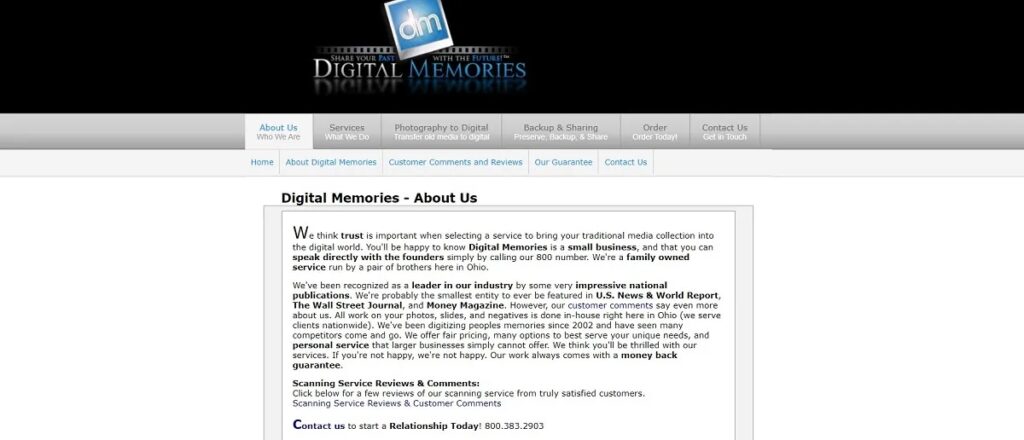 Digital Memories is a small, family-owned service provider that's been transforming traditional media collections into digital format for over two decades. All their services are done in-house.
While they're based in Ohio, they serve customers from all over the United States. Whether it's for your personal family collection or you're a professional photographer, they offer a solution to match your needs. From loose, individual photos to photo albums to slides and film, they can digitize various popular formats. They also offer a special service for your special snapshots.
You simply complete the order from, prepare your material to be scanned for shipment, and send it. You'll receive an email notification informing you when your shipment has been received and the order has started. Your hard-copy photos will be shipped back to you via FedEx Express.
Not only can you enjoy peace of mind knowing that the process is straightforward, but also that your photos will be scanned using state-of-the-art equipment. Plus, all optimizations and color adjustments are done manually.
One of their unique selling propositions is that unlike most of the other service providers, they also include a money-back guarantee. Plus, if you have a time-sensitive project, they do have a rushed service.
Other key services include:
Photo restoration
Online backup and sharing
DVD slideshows
9. Legacybox
For family photographs, you can check out Legacybox. Trusted by more than 1 million families, their team boasts 10+ years experience.
The process is very straightforward. You add custom barcodes to all your items, fill your Legacybox and then simply send it to them. Their team will digitize each item manually and keep you up to speed regarding the process. The digital versions will be sent to you via a secure online like or a USB flash drive and the originals shipped back to you.
They've received hundreds of online reviews. Their clear shipping instructions is one of the traits that have impressed customers the most. However, when it comes to customer service, some customers feel that there is slight room for improvement.
Other formats that they can digitize include:
10. DiJiFi
DiJiFi is a digitizing company that was started in 2007. While they're based in New York City, they serve customers from all over the world. From families to artists to government agencies, various clients have turned to their digital conversion services.
Their philosophy — do it right the first time.
They can scan any type of photo up to more or less 14 by 20 inches. What's more, they can also offer various resolutions. For example, if you opt for full resolution, they'll get all the useful details from the photo and future-proof the scans too. This way, it will display the best fidelity on the next generation of digital display.
All in all, what makes them one of the best photo scanning services is that they managed to find the right balance between quality and price. They've invested a lot of time and energy into testing various scanners to find the one that can offer the best quality without making the service too expensive.
Other key services include:
Large format scanning
Document scanning and shredding
Film, video, and audio digitizing
FAQ
What should you look for when choosing a photo scanning service?
While the rate per photo is a deciding factor, you should consider more than just the pricing. Also keep in mind what size photos they can scan, which image enhancements are included in the price and in which format the scanned images will be shared. It's also very important to double-check that your photos won't get shipped to another country, this increases the risk of damage or images getting lost.
How much do photo scans cost?
Prices range quite a lot. You can expect to pay anything from $0.30 per photo to $0.71 per photo. Keep in mind that factors like the resolution and photo sizes will impact the pricing.